Raising Awareness of Opioid Addiction
FBI, DEA Release Documentary Aimed at Youth
Every day, the nation's law enforcement agencies at the local, state, and federal levels—including the FBI and the Drug Enforcement Administration (DEA)—use investigative resources to target the supply side in the war against drugs.
But even with numerous law enforcement successes in this area, the demand for drugs continues. And one of the more worrisome trends is a growing epidemic of prescription opiate and heroin abuse, especially among young people.
Today, in an effort to help educate students and young adults about the dangers of opioid addiction, the FBI and DEA unveiled a documentary called Chasing the Dragon: The Life of an Opiate Addict at the Newseum in Washington, D.C., before an audience of educational leaders from the region. The 45-minute film, whose title refers to the never-ending pursuit of the original or ultimate high, features stark first-person accounts told by individuals who have abused opioids or whose children have abused opioids, with tragic consequences.
"This film may be difficult to watch," explains FBI Director James Comey, "but we hope it educates our students and young adults about the tragic consequences that come with abusing these drugs and that it will cause people to think twice before becoming its next victim."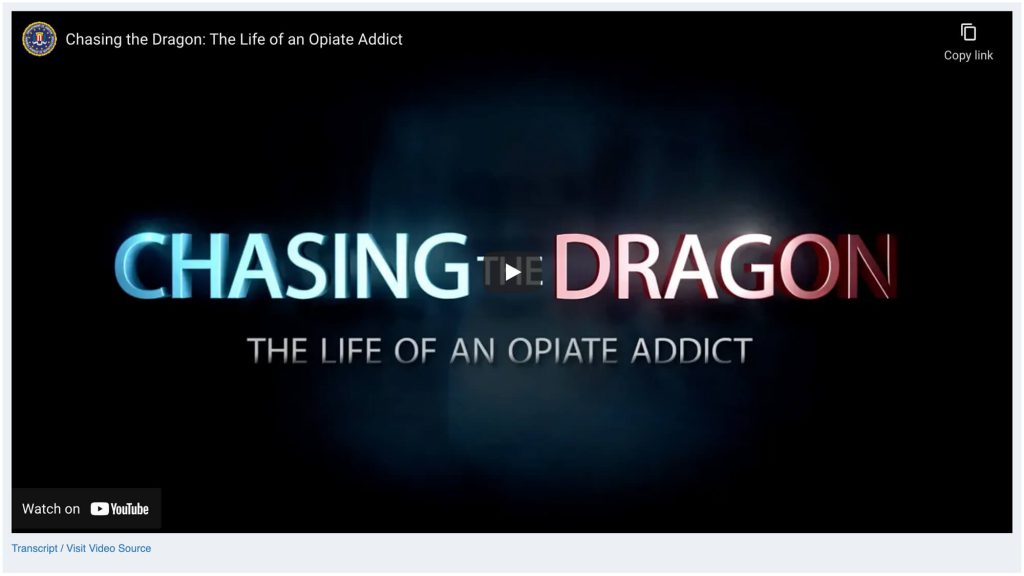 And according to Acting DEA Administrator Chuck Rosenberg, "The numbers are appalling—tens of thousands of Americans will die this year from drug-related deaths, and more than half of these deaths are from heroin and prescription opioid overdoses. I hope this [documentary] will be a wakeup call for folks."
Read the full article at fbi.gov/news
Additional Resources
The Numbers Behind America's Opioid Epidemic
Chasing the Dragon: The Life of an Opiate Addict
Evidence-based Strategies for Preventing Opioid Overdose: What's Working in the United States
Prescription for Disaster: How Teens Misuse Medicine
Report Illicit Pharmaceutical Activities
National Prescription Drug Take Back Day